6 Best Woocommerce Pre-Order Plugins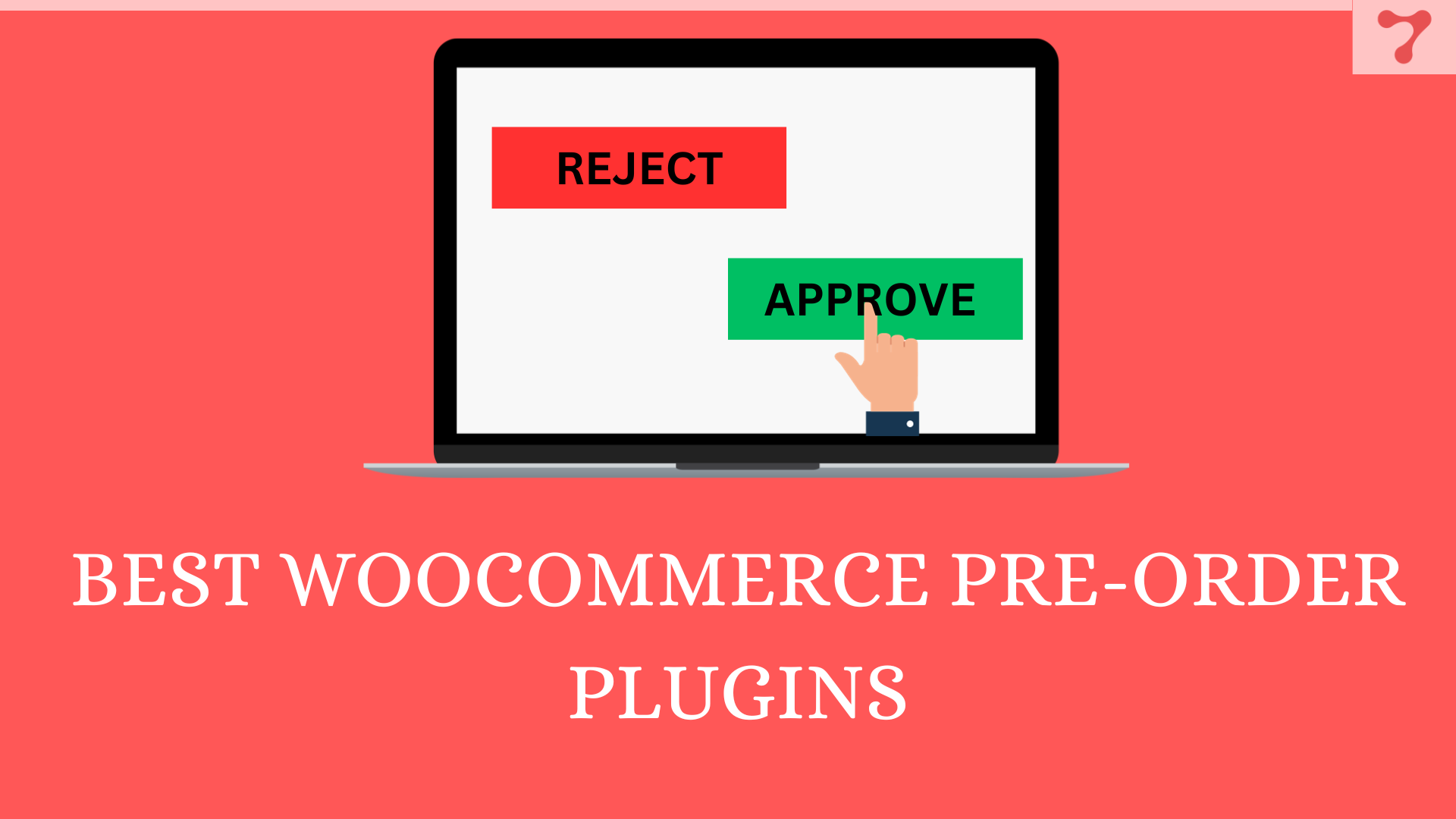 In the fast-paced world of e-commerce, adapting to customer demands and emerging market trends is crucial for staying ahead. One effective strategy gaining prominence is integrating pre-order functionality. Woocommerce Pre-Order Plugins have become indispensable for online retailers, seamlessly incorporating pre-order capabilities into their WordPress-based stores.
This article offers a straightforward review of the 6 best Woocommerce Pre-Order Plugins. We'll delve into their features and benefits, empowering businesses to navigate evolving consumer demands effectively. Our aim is to provide insights into how these Woocommerce Pre-Order Plugins enhance the pre-order experience, allowing businesses to make informed decisions in the competitive e-commerce landscape.
6 Woocommerce Pre-Order Plugins are given below
Order Approval for Woocommerce
Dokan Order Approval Addon
YITH Preorder for Woocommerce
Woosify Preorder Addon
Woolentor
Woocommerce pre-orders
Order Approval for Woocommerce
The WooCommerce Order Approval plugin offers shop owners/admins a streamlined approach to order management. With the ability to review and approve or reject orders before payment processing, this plugin puts control in the hands of administrators. Upon approval, customers receive a prompt email with a convenient payment link, ensuring a smooth transaction. Conversely, if an order is rejected, customers are promptly notified via a cancellation email, maintaining transparency. In the ever-changing e-commerce landscape, the WooCommerce Order Approval plugin emerges as a valuable tool, providing efficient order control and contributing to a positive customer experience.
Know more visit :
Dokan Order Approval

The Dokan Order Approval plugin empowers vendors by granting them the authority to approve or reject customer orders prior to payment processing. This unique feature provides vendors with control over the order fulfillment process, ensuring a tailored and efficient approach to each transaction. With a focus on user-friendly order management, Dokan Order Approval aligns seamlessly with the evolving landscape of e-commerce. As the market embraces innovative solutions, this plugin emerges as a valuable tool for vendors seeking to enhance their WooCommerce experience. Stay tuned for more insights into cutting-edge plugins and strategies that elevate the dynamics of WooCommerce.
Know more visit :
YITH Preorder for Woocommerce
The YITH Pre-Order for WooCommerce plugin is a powerful tool designed to create a sense of urgency and scarcity for customers, encouraging them to purchase products before they run out. This versatile Woocommerce Pre-Order Plugins allows you to easily set up pre-order pages with essential information, giving customers confidence in their purchases.
With complete control over the pre-order process, you can handpick specific products, set release dates, and decide whether to charge customers in advance or upon product release. This strategic approach enhances your sales strategy and generates excitement around upcoming product launches.
The YITH WooCommerce Pre-Order plugin seamlessly integrates with popular WordPress plugins, ensuring compatibility with tools like Aelia Currency Switcher and WPML Currency Switcher. Its user-friendly design and translation readiness make it an ideal choice for online retailers looking to maximize the potential of pre-orders and boost sales.
Know more visit :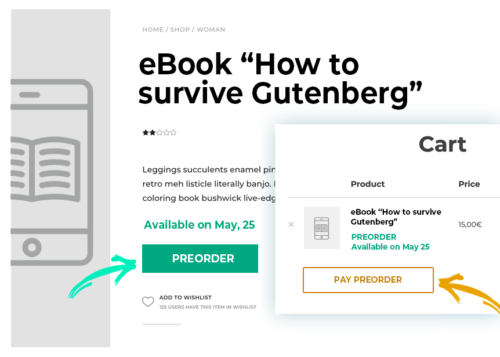 https://yithemes.com/themes/plugins/yith-woocommerce-pre-order/
Woosify Preorder Addon
The Woostify Preorder add-on enhances online stores by allowing customers to place orders for currently unavailable products. This valuable feature ensures that customers receive their orders promptly once the products become available.
With a wide range of customizable options, the Preorder add-on empowers users to seamlessly implement the Preorder function for any product. Users can personalize the Preorder label and message, style the Preorder section, and even create a countdown timer to build anticipation among customers. This add-on proves to be an indispensable tool for launching new products, enhancing the overall customer experience, reaching new leads, and fostering engagement with existing customers.
By incorporating a preorder option, online stores utilizing the Woostify Preorder add-on can maximize sales opportunities and maintain high levels of customer satisfaction. This add-on is a strategic asset for any e-commerce business looking to optimize their product launch strategies.
Know more visit :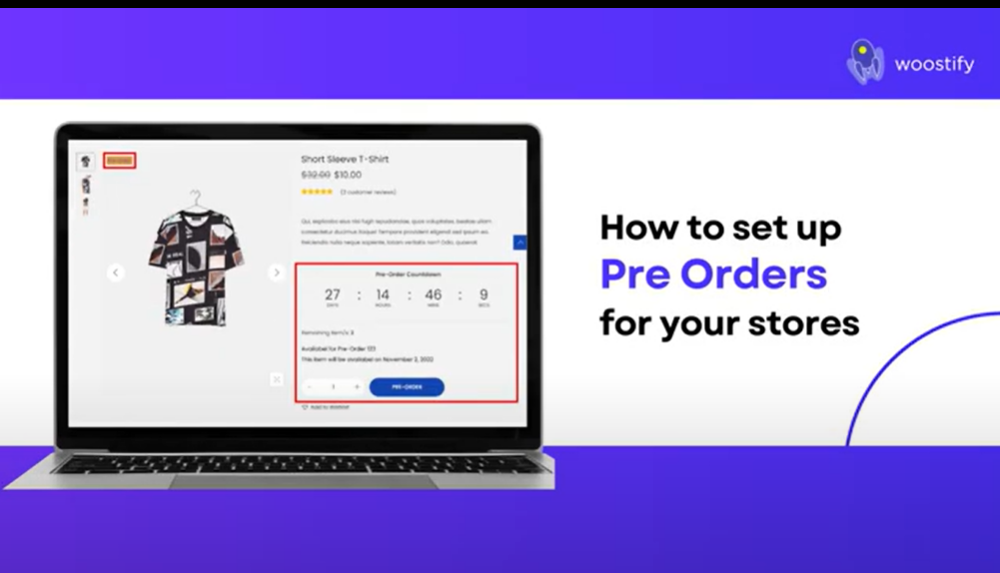 https://woostify.com/docs/pro-modules/pre-order/
Woolentor
WooLentor takes the lead as the top choice among the best Woocommerce Pre-Order Plugins. As the ultimate Woocommerce Pre-Order Plugin for Elementor Page Builder, WooLentor reshapes how online retailers manage the design of their WooCommerce pages. This robust tool offers complete control over the visual aspects of your online store and introduces a groundbreaking pre-order plugin module that allows customers to secure products before their official release.
WooLentor's pre-order plugin is a game-changer, creating anticipation and excitement for upcoming product launches. The experience is fully customizable, catering to your preferences. Whether it's advance or post-release pre-orders, Woolentor's flexibility allows customers to place orders based on their preferences.
This plugin accommodates various product types, from simple to variable products, and provides the option to charge a fee for pre-orders, adding a strategic dimension to your revenue model.
A standout feature is WooLentor's user-friendly management system for pre-orders. Easily cancel unavailable pre-orders and efficiently filter them using a custom "pre-order" order status. Going a step further in personalization, WooLentor enables customization of the Add to Cart/Place Order buttons for pre-orders, ensuring a seamless shopping experience for customers.
With WooLentor and its feature-rich pre-order plugin, unlock the potential of pre-orders to create buzz, enhance engagement, and boost sales. It stands as a must-have tool for any WooCommerce-based online store, offering a comprehensive solution to elevate your e-commerce venture.
Know more visit : https://woolentor.com/doc/how-to-set-pre-order-for-woocommerce/
Woocommerce pre-orders
WooCommerce Pre-Order presents a seamless way to integrate pre-order items into your store effortlessly, seamlessly blending them with your existing product lineup. This plugin offers a comprehensive pre-order management system, allowing you to choose preferred payment gateways and send custom emails to customers.
A notable feature is its visually appealing design, featuring a vibrant label for the sale date and a countdown timer, creating a sense of urgency and anticipation. You also have the option to display the number of items in stock, adding to the excitement and encouraging prompt action.
While praised for its features, some users may find the plugin slightly limiting, as it creates a separate menu for pre-order items. For those desiring more flexibility, alternative plugins allowing regular WooCommerce products to be marked for pre-sale might be more suitable.
In essence, WooCommerce Pre Order is a valuable tool for adding pre-order functionality, enabling you to build anticipation and boost sales for upcoming product releases. However, those seeking greater customization and integration may explore alternative solutions better tailored to their specific needs.
know more visit :

https://woo.com/products/woocommerce-pre-orders/
Was this documentation helpful?