Order Approval for WCFM Plugin: A Must-Have Plugin for WooCommerce Store Owners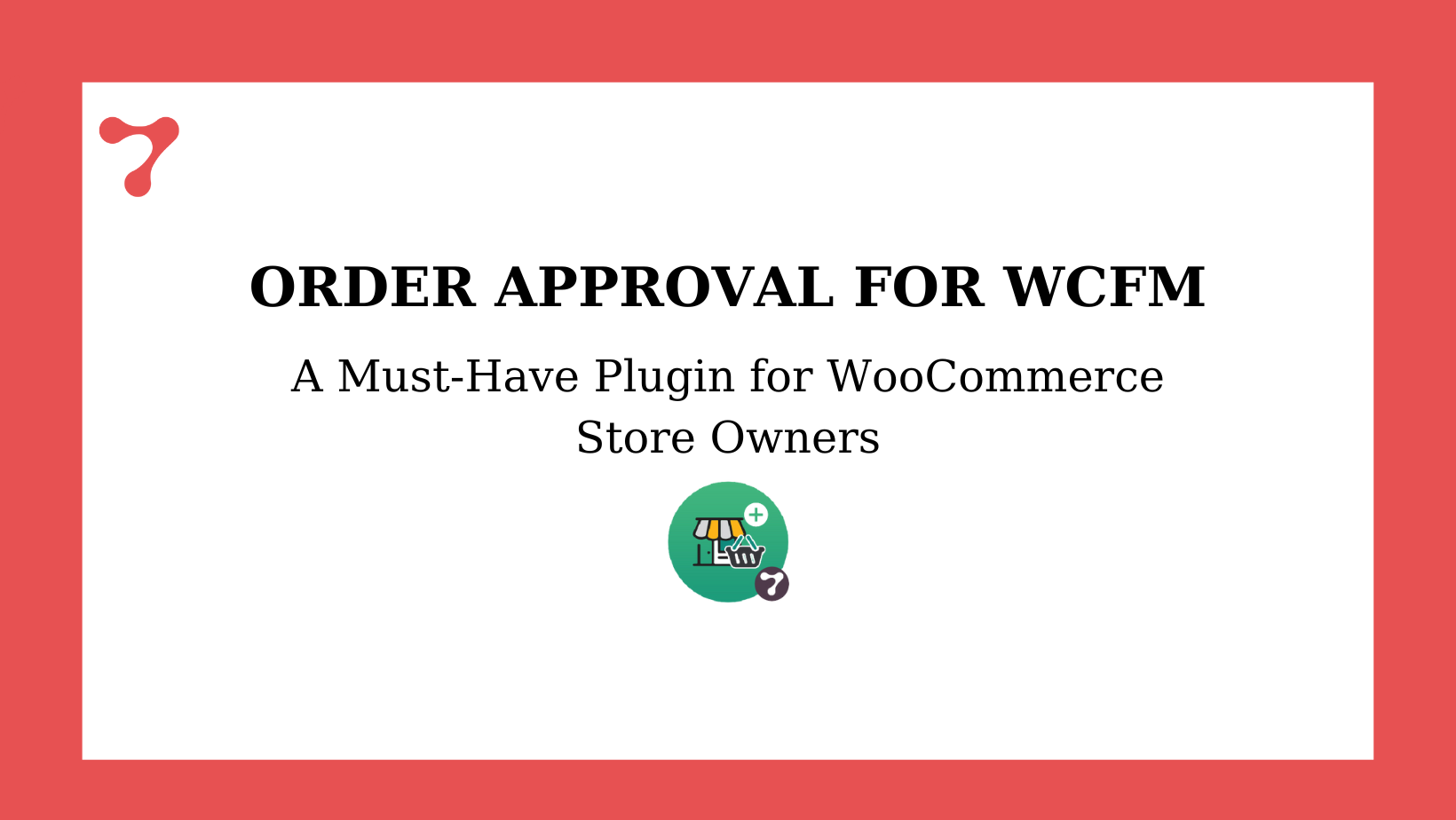 In the fast-paced world of e-commerce, precision and control over your operations can make all the difference. Enter the Order Approval for WCFM plugin, a game-changer for WooCommerce store owners. This essential tool empowers WCFM marketplace vendors with the ability to approve or reject customer orders before payment is processed.
What's Unique about Order Approval for WCFM Plugin
The uniqueness of the "Order Approval for WCFM" plugin lies in its ability to provide WooCommerce store owners, especially those using the WCFM marketplace system, with a specialized set of features tailored for order approval and management. Here are some distinctive aspects that make this plugin stand out:
Vendor-Centric Control:

Vendors have the authority to examine and approve orders, putting them in control of the order approval process.

Transparent Payment Processing:

Payments are processed transparently only after obtaining vendor consent, fostering trust in financial transactions.

Seamless Integration with WCFM Marketplace Plugin:

The system seamlessly integrates with the WCFM Marketplace Plugin, ensuring a smooth and compatible user experience.

Customizable Approval Criteria:

Vendors can establish unique approval standards tailored to their specific enterprise needs.

Effective Order Communication:

The platform features an integrated communication channel for efficient interaction between vendors and customers.

Reduced Order Cancellations:

Merchants are equipped with tools to limit cancellations and prevent overselling, enhancing order fulfillment efficiency.

Vendors Control Payment Processing:

Vendors oversee the payment processing process, ensuring alignment with approved orders and maintaining control over financial transactions.

Comprehensive Order Management:

The system offers centralized order management for effective tracking and processing, streamlining the order fulfillment workflow.
Use Cases of Order Approval for WCFM Plugins
1. High-Value Items:
Scenario: Your store offers high-value or customized items.
Use Case: With the order approval feature, vendors can thoroughly review and approve orders for expensive or personalized products, ensuring accuracy and preventing costly errors.
2. Customized Products:
Scenario: Your store specializes in customizable products.
Use Case: Vendors can use the approval system to confirm that customer specifications for personalized items are accurately reflected in the order before proceeding with production.
3. Vendor Autonomy:
Scenario: You run a multi-vendor marketplace using WCFM.
Use Case: Each vendor can independently manage and approve their own orders, maintaining a streamlined process within the multi-vendor environment.
4. Payment Verification:
Scenario: Your store wants to ensure payment confirmation for certain orders.
Use Case: By having vendors approve orders before payment processing, you can verify payment details and prevent instances of insufficient funds or payment failures.
5. Fraud Prevention:
Scenario: Concerns about potential fraudulent transactions.
Use Case: Implementing an order approval system adds an extra layer of security, allowing vendors to scrutinize orders for any suspicious activities before accepting payment.
6. Specialized Products or Services:
Scenario: Your store sells products or services that require specific expertise.
Use Case: Vendors can use the approval feature to ensure that orders for specialized items or services align with their expertise, preventing misunderstandings and maintaining quality standards.
7. Order Customization:
Scenario: Customers frequently request modifications to their orders.
Use Case: Vendors can easily communicate with customers through the plugin's messaging system to clarify any customization requests, ensuring that the final order meets customer expectations.
8. Workflow Optimization:
Scenario: Your store has a specific order processing workflow.
Use Case: Customize the approval process to match your business workflow, ensuring that orders move through the various stages efficiently and in accordance with your established procedures.
Conclusion:
Order Approval for WCFM Plugin is a must-have plugin for WooCommerce store owners seeking to revolutionize their operations. By incorporating a pre-payment order approval system, you not only prevent errors but also elevate your brand in a competitive market. Take charge of your order management and provide a seamless shopping experience for your customers today.
Ready to enhance your WooCommerce store? Explore the power of Order Approval for WCFM plugins and experience a new level of control and efficiency.
Know more visit :
See documentation:
Was this documentation helpful?