Order Approval for WCFM
The Order Approval WCFM plugin, also known as the WCFM Order Approval Plugin, offers vendors in the WooCommerce Multivendor Marketplace, who use the WCFM Marketplace Plugin, a powerful feature:the ability to review and make decisions on customer orders before any payments are processed. This capability is made feasible through the seamless integration of the Order Approval for WCFM with the SG Order Approval for WooCommerce plugin. By combining these plugins, you can effectively handle orders from numerous vendors while ensuring that payments are not collected from customers until vendors have granted their approval. This integration provides enhanced transparency, trust, and control, creating a seamless experience for both customers and vendors within the WCFM Marketplace Plugin.
Installation
To install our Order Approval WCFM plugin, you have to purchase it from our WordPress plugin website – Sevengits.
After completing the purchase, you can login to your account and download the plugin file as well as the License Key.
IMPORTANT NOTE
This plugin will only work if you have either the Order Approval for Woocommerce or Order Approval for Woocommerce Pro , Multivendor-Marketplace and woocommerce plugin installed and activated.
Order approval for WCFM Free
You can easily check our free version on:
order approval WCFM plugin-How to get a License Key?
You will get the license from your Sevengits account. All license keys are valid for a year from the day of purchase. After completing the order, you will get an email from us with a link to access your account. From your account, you can download the Plugin to your system.
Your license key is valid for 12 months from the date of purchase.
Upload via WordPress Admin panel
This is the most common method everyone uses. No coding knowledge is required.
Login to your WordPress website Administration Panel
Navigate to the Plugin → Add New.
Click on Upload Plugin button
Choose the plugin zip file you have just downloaded.
Click on the Install Now button.
Once the installation is complete, click on Activate Order Approval WCFM Plugin to activate the installed Plugin.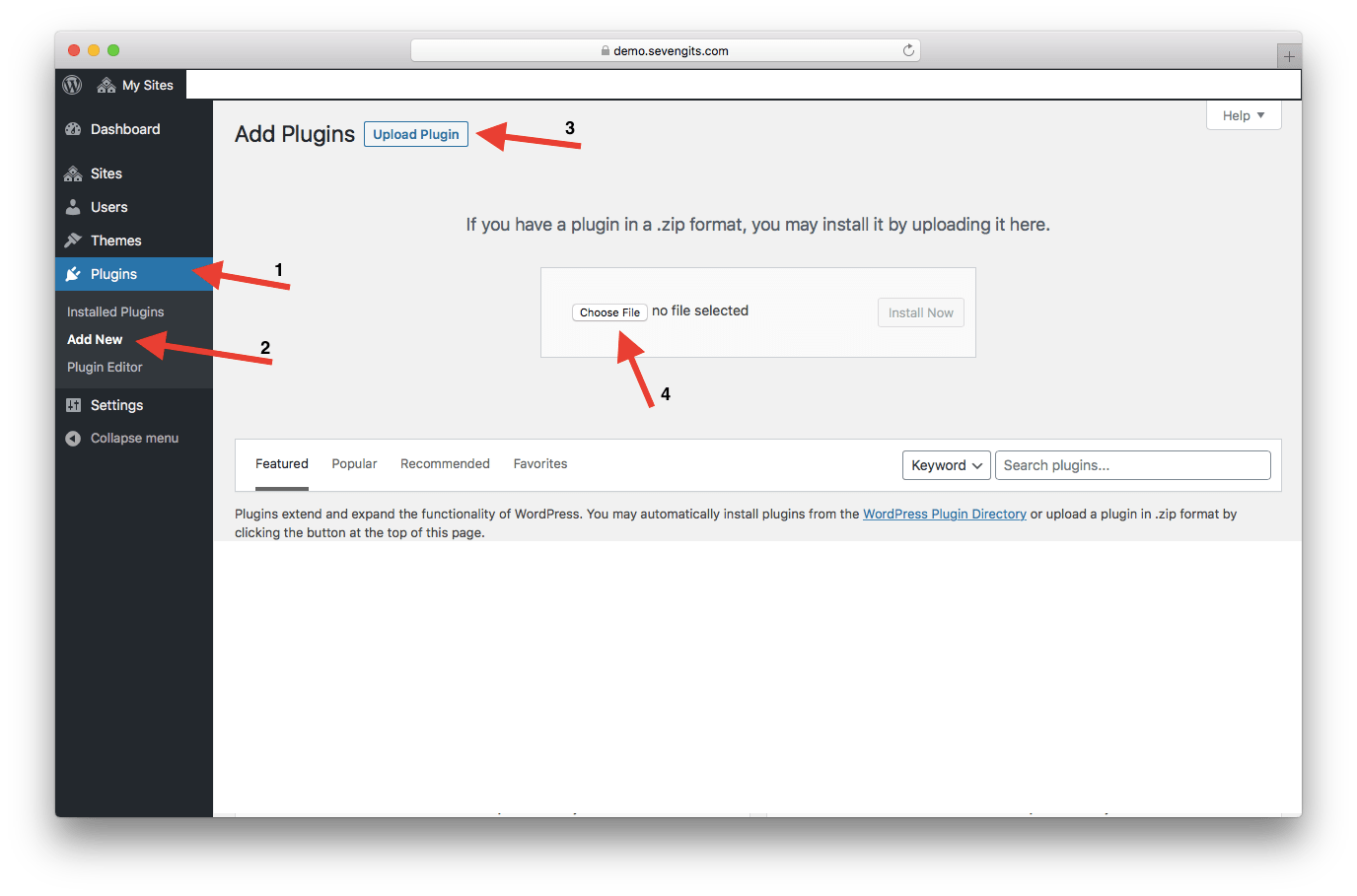 Upload via FTP
Extract the downloaded plugin zip file.
Upload the folder to your server via FTP to the plugins directory on your WordPress installation (wp-content → plugins).
Activate the plugin on the Plugins Admin page.
Activation
Go to WooCommerce -> Settings -> Advanced tab -> Order Approval WCFM Plugin -> Add the License Key -> Save changes
Now you've enabled the plugin on your website.
Support
If you purchased a premium version from us with a valid license key ( Kindly mention your license key in the subject line ). Contact us.
Was this documentation helpful?
---