SG Map to Address
Reduce order placing time by auto fill shipping address using map marker. Reverse geocoding (Map to Address) plugin with multiple address support
Current version: 1.1.1
Last updated: 5-Jan-2022

Regular License

Sg WooCommerce Delivery Location Map Picker helps customers to fetch their current address from the map and autofill in the address field. This plugin can also save multiple delivery addresses for a single user. With this plugin, shop owners can reduce the order placing time .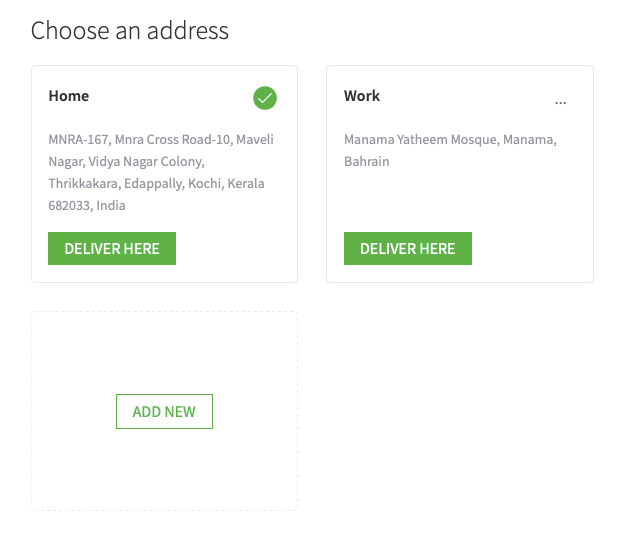 Fetches current location and autofill address details

Save multiple locations for delivery

Autofill address from map

Choose delivery address from saved addresses

Clean User Interface

Theme compatible design

Easy to configure

Translation ready

Early access to new updates

Customer support via email

Easy to operate by end user
Note: this is reverse geocoding plugin.
Reverse geocoding is the process of converting geographic coordinates into a human-readable address.The term geocoding generally refers to translating a human-readable address into a location on a map. The process of doing the opposite, translating a location on the map into a human-readable address, is known as reverse geocoding.
This plugin substitutes the traditional order placing experience on your checkout page. 
Read more on Documentation.
Was this documentation helpful?
1.1.1 04-JAN-2022
Feature: developer hooks added around addresses section and title: sg_del_add_before_title, sg_del_add_after_title, sg_del_add_before_addresses, sg_del_add_after_addresses
Feature: developer hooks added around selected address section and title: sg_del_add_before_selected_address_title, sg_del_add_after_selected_address_title, sg_del_add_before_selected_address, sg_del_add_after_selected_address
Feature: Addresses listed in my account addresses section.
Feature: Latlng and map link added in order detail admin page.
Feature: google map map type control enable / disable option and default view can be set via settings.
Improvement: Listed addresses in address section of user and can be delete from there.
Improvement: Code tested with wooCommerce version of 6.0
Improvement: Code tested with wordpress version of 5.8.2
Fix: restricted js file for checkout page only
1.1.0 04-MAY-2021
Improvement: Added Translation POT file for translation support.
1.0.9 27-APR-2021
Improvement: Code tested with wooCommerce version of 5.2.2
1.0.8 26-DEC-2020
Fix : Code improved and fixed minor issues
Improvement : Address title required if address type is disabled
1.0.7 06-Nov-2020
Fix : Code improved and fixed minor issues
Improvement: Added settings page link in plugin activate section
1.0.6 30-OCT-2020
Improvement: Code tested with wooCommerce version of 4.6.1
Improvement: Unwanted files and codes are removed
Improvement: Minified js and css files used.
Improvement: Plugin loading size reduced.
1.0.5 05-OCT-2020
Improved: Address picker title changed h3 to h4.
Feature: Can be change Address picker position. default is after billing/shipping address.
Feature: When pick an unnamed address error will be shown.
Feature: unnamed address error can be enable / disable and error message is customisable via admin settings.
1.0.4 10-SEP-2020
fix : Load js and css files only on checkout pages.
1.0.1 25-AUG-2020
Improved UI.
New optional fields area,Door number, locality etc.
Map can be add both Billing or Shipping area.
Collecting latitude/longitude from address.
Added more settings option for customisation.
1.0.0 20-AUG-2020
---