SG Woocommerce Checkout Location Picker
Checkout location picker is a WooCommerce plugin that helps customers to pinpoint their geolocation or delivery point on a map in WooCommerce checkout page. It converts the shipping address entered by the customer to respective coordinates ( latitude & longitude ) for easy delivery access.
Current version: 1.1.2
Last updated: 11-Jan-2022

Regular License

WooCommerce checkout location picker helps you to get the location for product delivery as an exact geo-location in Google maps rather than a physical address. Customers can drag the map picker in the checkout map to pinpoint the delivery location. 
During product checkout, the marked pin-points will be received at the backend as longitude & latitude points.
The plugin works based on the geocoding algorithm. Geocoding is the process of converting real addresses (like "1600 Amphitheatre parkway, CA") into geographical coordinates (like "latitude 37.423031 and longitude 122.083739"). 
The checkout location picker plugin functions as an extension alongside with the WooCommerce plugin in WordPress. It does not work individually.
Why should you install a WooCommerce Checkout location plugin on your checkout page?
It ever happened to you that you ordered something online and found yourself struggling to describe your exact location to the delivery guy? He will reach somewhere near your street and dials you. You will tell him the landmarks in detail and yet, he wouldn't catch up. And it takes several minutes of explanations by you and explorations (through your street of course!) by the delivery guy, you finally get your order in hand.
That's a lot of time wasted.
Well, this location picker WordPress plugin just gets rid of this chaos in your store's product deliveries. When your customer fills in the delivery address field during cart checkout, our plugin will automatically adjust the map provided alongside to the entered address.
Here the customer can then pinpoint their exact location. In short, you will get the address in the exact longitude and latitude of the place, marked in your map at the backend. Which is well, a lot more convenient than describing landmarks over the phone.
How does this WooCommerce Plugin works?
Usually, the product purchase through a WooCommerce store takes place like this – The customer will browse through the products and add their desired items to the cart. When they are done purchasing, they proceed to the cart for checkout, wherein they should enter their payment options, billing address (and shipping address if they are different), etc. in the provided fields. 
If you have installed this WordPress plugin, checkout location picker to your WooCommerce store, a map will be displayed alongside the checkout page. Once the customer fills in the address field, the map's marker automatically navigates to the entered location. Further here, they can pinpoint the exact building/point where the product is to be delivered.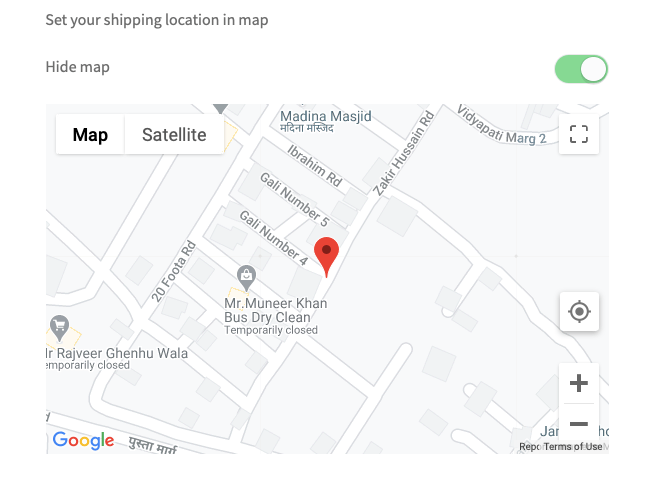 Location Picker working video
This will be received as geographic coordinates at the backend i.e., as latitudinal and longitudinal values. You can also view the coordinates on the map.
This way, the plugin improves the checkout experience and saves time on product delivery as now there is no need for further searching or conversations to find the exact delivery point. 
All the delivery person needs to do is, set the delivery address as a destination point in their Google maps and follow the directions.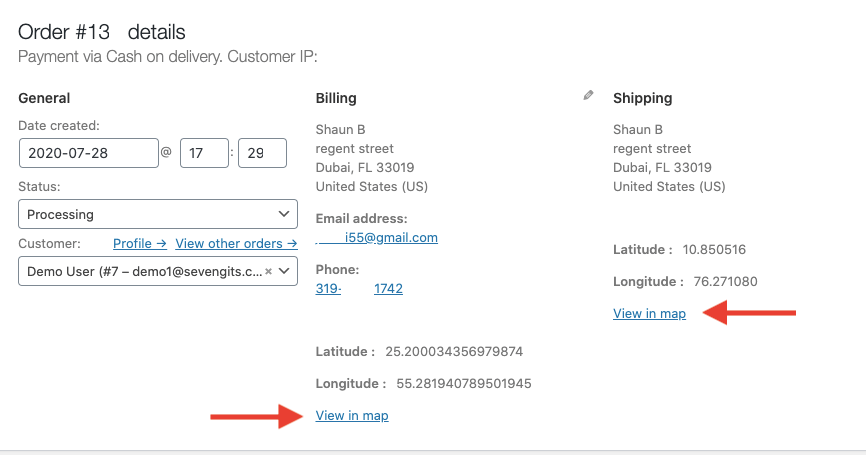 The "View in Map" option will directly open the customer location on your Map application.
This Location Picker for WooCommerce is built in a highly versatile framework. All the features, labels, etc. are highly flexible and can be turned on or removed at any time as per your need.
Furthermore, it is an essential WordPress plugin with very fast installation steps and well written Documentation to maintain the quality of User Experience on your checkout page. 
Easy Customization
WooCommerce Checkout Location Map picker is a plugin that gives full control over its features to the users. All options are easily customizable and can be removed if unnecessary. 
Also, the map elements like the zoom in & out options, street view, auto fetch location, full screen, Map / Satellite view, hide / show map, latitude and longitude are all can be hide. The default version of the map in the plugin is with all the features embedded in it as shown.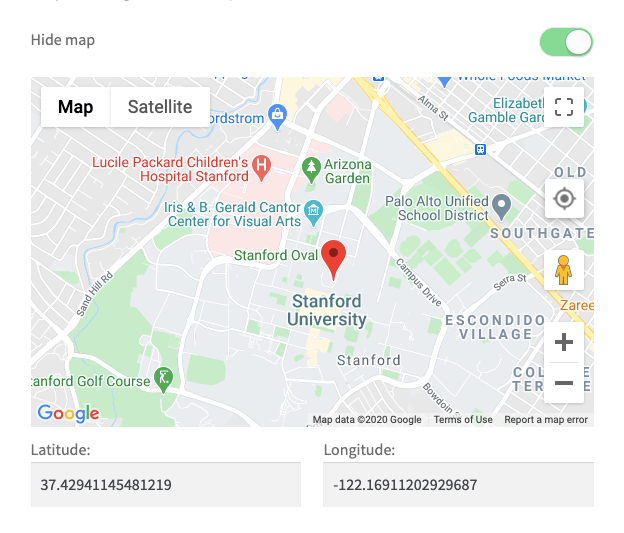 This view of the WordPress plugin could literally make your customer's head throbbing, let alone make them mark their location on it. We know that too. But what we don't know is, which of these features works best for you and which of those you don't have a need for. 
So what we have done is we have made our plugin super flexible. Apart from the hide option for all the labels and the map itself, the map view and its styles are all changeable via CSS.
Location Map Picker – Settings page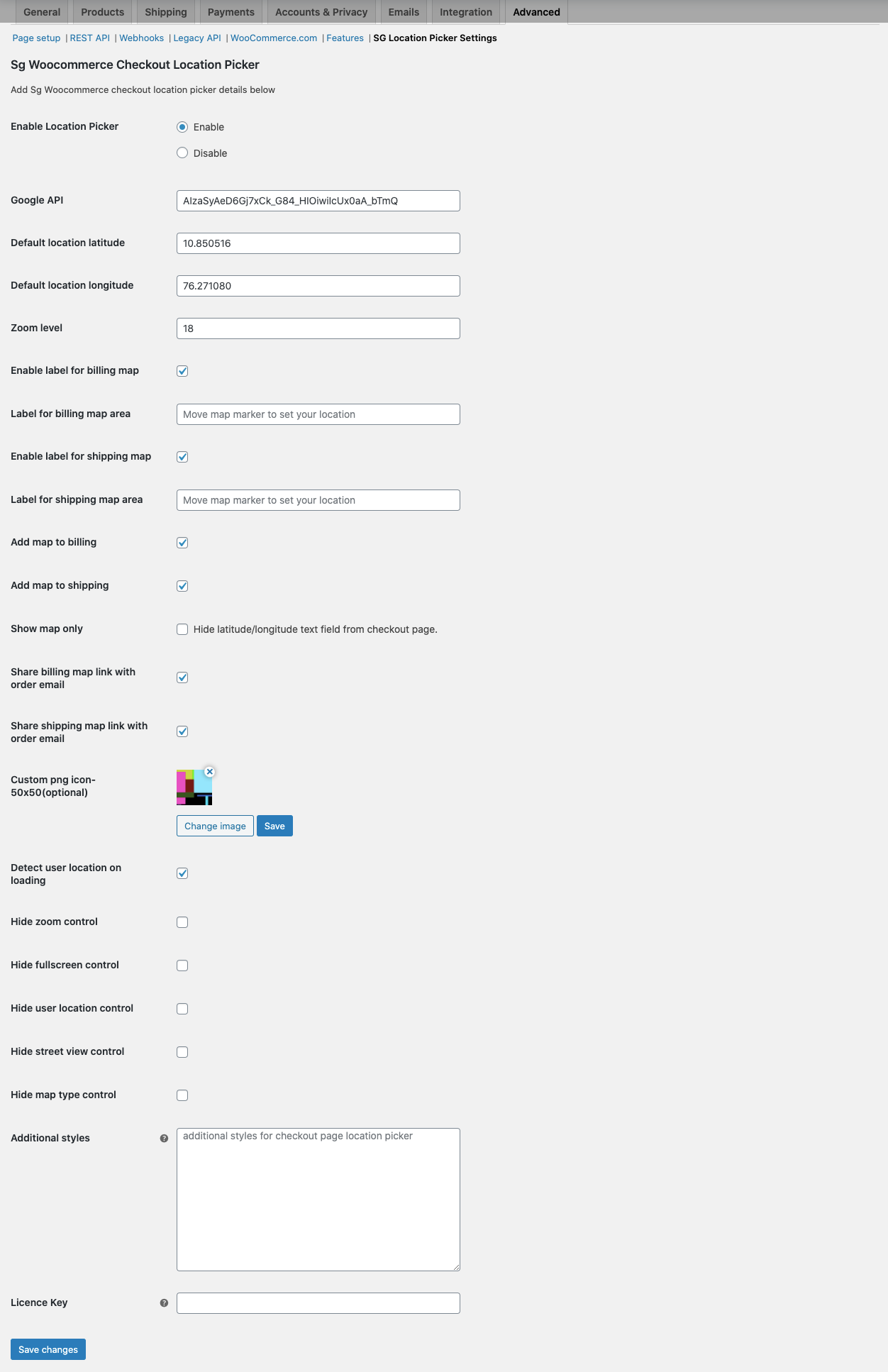 That means you can easily customize and make it compatible with your WooCommerce theme. To know more about the settings functionalities, please refer to this plugin documentation.
Note: Avoid using SG WooCommerce Checkout location picker nulled version from other untrusted sources. You can download the free version from WordPress plugin store. Using nulled plugins may affect your website health.

Was this documentation helpful?
1.1.2 - 11/01/2022
Fix: console error fixed if not available shipping methods / disabled shipping methods are empty in checkout page
1.1.1 - 16/12/2021
Feature: Map view added in Thank you page
Feature: Disable plugin based on shipping method
Improvement: Code tested with wooCommerce version of 6.0
Improvement: Code tested with wordpress version of 5.8.2
Fix: restricted js file for checkout page only
1.1.0 - 06/06/2021
Improvement: Code tested with wooCommerce version of 5.3.0
Feature: Hooks added before and after of map title and map in billing and shipping section: sgitsclp_before_billing_title, sgitsclp_after_billing_title, sgitsclp_before_billing_map, sgitsclp_after_billing_map, sgitsclp_before_shipping_title, sgitsclp_after_shipping_title, sgitsclp_before_shipping_map, sgitsclp_after_shipping_map
1.0.9 - 27/04/2021
Improvement: billing latlong same as shipping latlong if billing / shipping addresses are same.
Improvement: Code tested with wooCommerce version of 5.2.2
1.0.8 - 30/10/2020
Improvement: Code tested with wooCommerce version of 4.6.1
Improvement: Unwanted files and codes are removed
Improvement: Minified js files used.
Improvement: Plugin loading size reduced.
1.0.7 - 13/08/2020
Improvement: Added support for wordpress 5.5
Fix: Remove admin notice for plugin review.
1.0.6 - 30/07/2020
Improvement: Removed inline javascript. Optimised js files.
Fix: Map map not showing error in some cases.
Fix: issues related to mobile view.
Fix: Screen,help toggle menu not working.
1.0.5 - 20/07/2020
Feature: Setting option for hide full screen control, user location control, zoom control, street view control and map type control.
Feature : Added custom style setting option in backend for more customisation control.
Feature : Added user location custom GPS icon for locate the user location.
Fix : Added fix for third party checkout field customisation plugins.
Fix : Fixed some issues in mobile view.
1.0.4 - 27/06/2020
Minor fixes.
Wordpress 5.4+ compatibility.
Feature : custom icon cab be uploaded.
1.0.0 - 27/06/2020
---