SG WooCommerce Order Approval Pro
Overview
WooCommerce Order Approval plugin allows shop owners to approve or reject all the orders placed by customers before payment is processed!
When you activate WooCommerce Order Approval plugin, customers can make the order without the payment. Yes. No payment will be processed at that time.

After the order, a mail will be sent to the Shop owner / Admin. They can approve or reject the order.

If the order gets approved, the customer will get an email with a payment link. If rejected, a cancellation mail will be sent to the customer.
Note: It will take only 2 mins to download, install and activate the Pro version of Location Picker plugin.
Free Vs Premium
| | | |
| --- | --- | --- |
| FEATURES | FREE | PRO |
| Translation ready | YES | YES |
| 1-year Support | Via WordPress forum | Priority Support via email. |
| Per-Product Support | No | Yes |
| Email Customisations(4 Types) | Yes | Yes |
Installation
To install our Woocommerce location picker PRO version, you have to purchase the plugin from our WordPress plugin website – Sevengits.
After completing the purchase, you will get an email from us with a License key and a .zip file with the plugin in it. You have to Download the Plugin to your system.
Note: Activating both free and premium version of a plug-in at a time will break some features. Either activate free or premium version of the plug-in to enjoy full functionality.
Upload via WordPress Admin Panel
This is the most common method everyone uses. No coding knowledge required.
Login to your WordPress website Administration Panel
Navigate to the Plugin → Add New.
Click on Upload Plugin button
Choose the plugin zip file you have just downloaded.
Click on the Install Now button.
Once the installation is complete, click on Activate Plugin to activate the installed Plugin.
Now you've finished installing the Pro version of Woocommerce Checkout Location Picker.
Upload via FTP
Extract the downloaded plugin zip file.
Upload the folder to your server via FTP to the plugins directory on your WordPress installation (wp-content → plugins).
Activate the plugin on the Plugins Admin page.
Activation
Go to Woocommerce -> Settings -> Advanced tab -> SG Order Approval Settings. -> Enable appropriate Order approval options -> Save changes

Here, you can enable this option for all your products or only to any few products.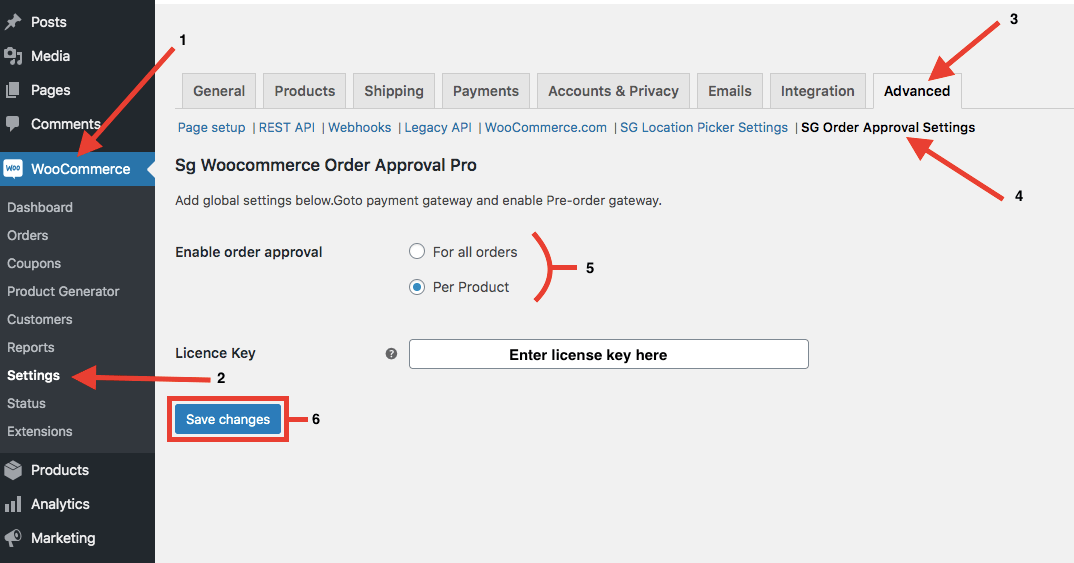 2. After enabling the plugin -> Go to Payments tab -> Enable Woocommerce Order Approval and other payment gateways you would like to use.-> Save changes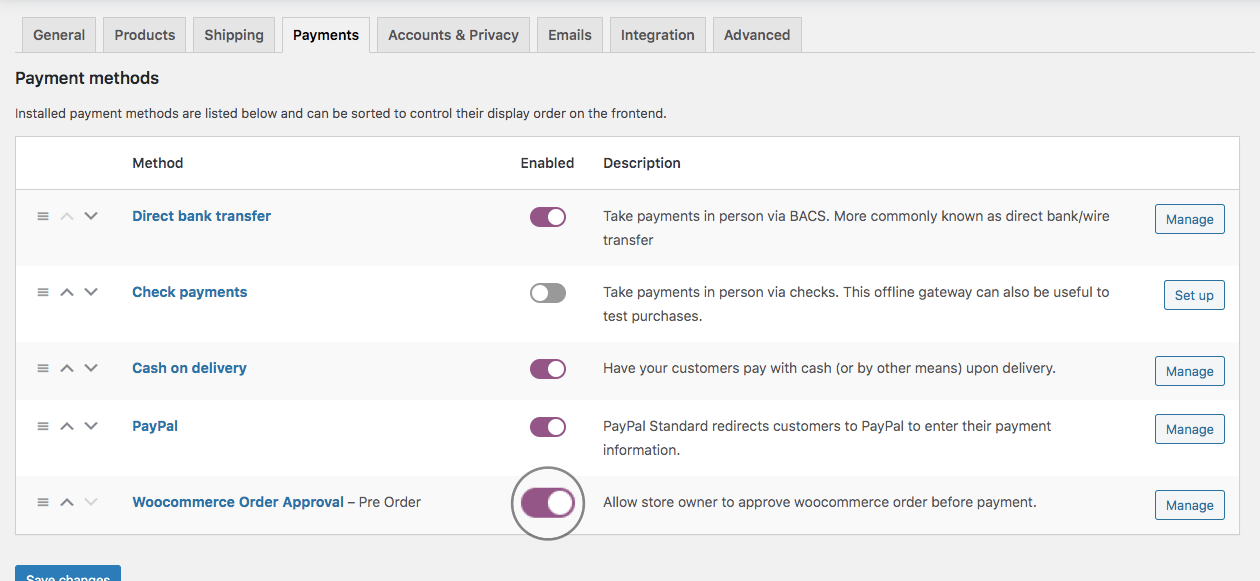 Note: You must enter the License key to activate premium features. Your license key can be found in Sevengits, "my account" page.
Configuration
Email
You will get the option to customise four email templates after installing SG Order approval pro plugin. They are,
Pre-order notification – Customer ( An email sent to the customer when an order is created through pre-order )
Pre-order notification – Admin ( An email sent to the admin when an order is created )
Order approved notification – Customer ( An email sent to the customer when an order is approved )
Order rejected notification – Customer ( An email sent to the customer when an order is rejected )
You can also configure the email templates by clicking the Email headings on the email tab.

Email Content Customisation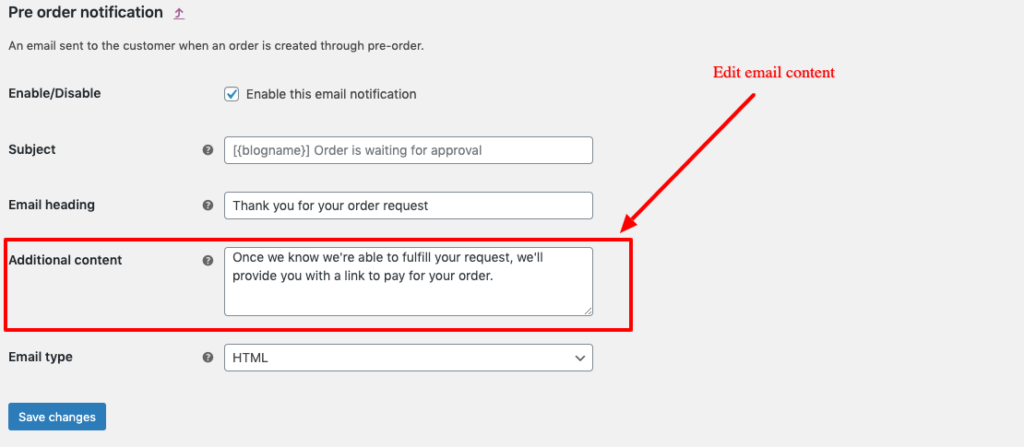 Managing Orders
SG WooCommerce Order Approval plugin allows you to take actions on individual orders. You can either approve or reject the order from the backend.

All you have to do is to check the "tick" or Reject using the Actions tab menus.
Your customers will be notified with an automatic email that you've customized before.

Configuring for single products
To configure the Order Approval plugin for selected products, you need to make some changes in the settings.
Change global settings to "Per product".

Go to Products -> All Products -> Choose a product -> Scroll down to Product Data -> Check tickmark to enable Order Approval Plugin for that particular plugin.

Edit Email Templates
copy the emails found at wp-content/plugins/sg-order-approval-woocommerce-pro/templates/emails into the store's theme at: your-theme/ woocommerce/emails/.
Finally, edit the emails.
Note : if you are editing files this way make sure that you moved all emails template from plugin folder to theme folder as mentioned earlier irrespective of editing those files.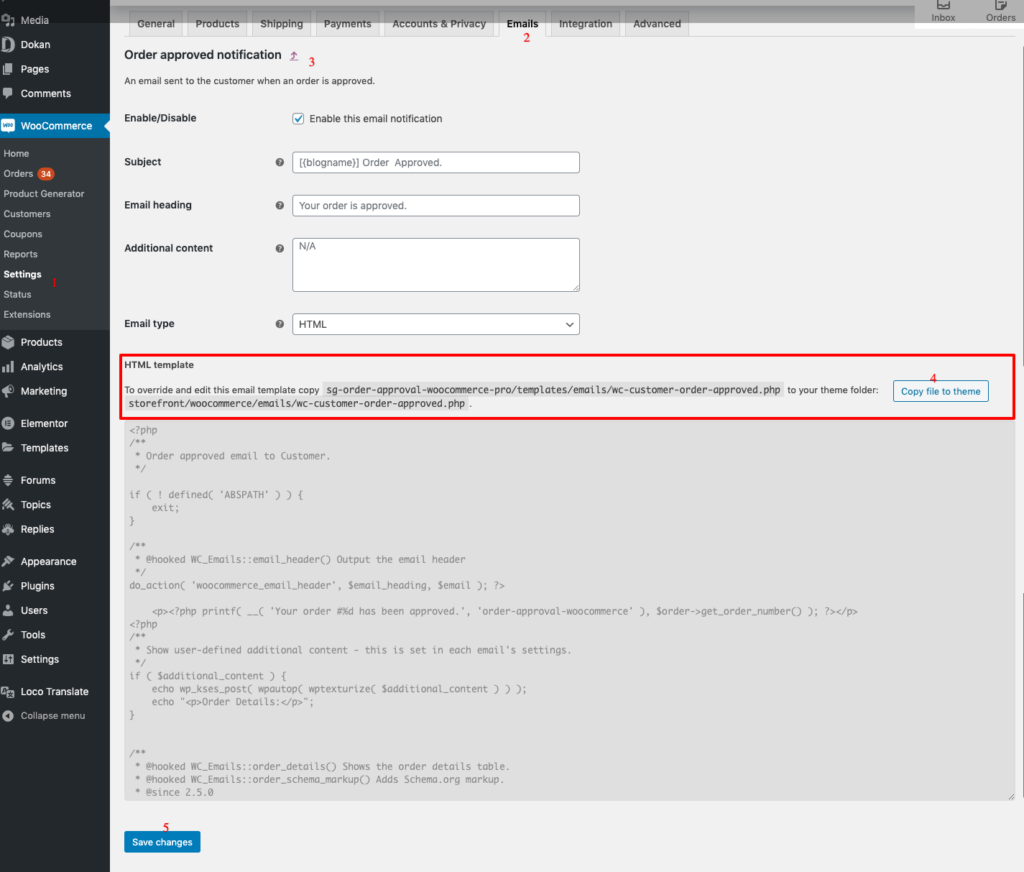 Developer Note : Email ids
WC_Customer_Order_New 
WC_Admin_Order_New
WC_Customer_Order_Approved
WC_Customer_Order_Rejected
Update
You will be notified about new feature updations along with a changelog. You can read about the fixes and features and can update our premium plugins like how you update other WordPress plugins.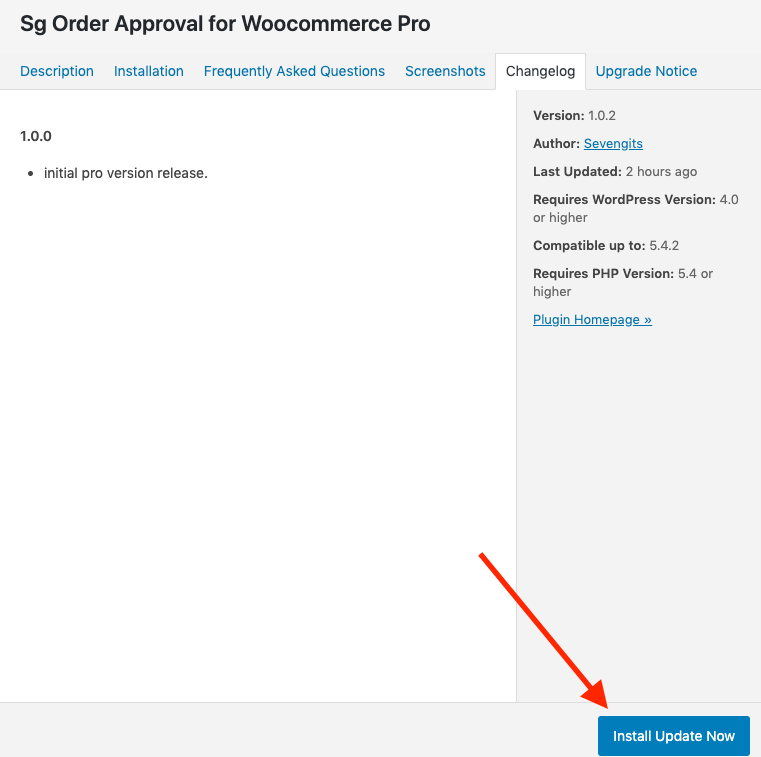 Support
If you purchased a premium version from us with a valid license key ( Kindly mention your license key in the subject line ). Contact us.
FAQ
The customer received the email to process the payment of the order but after x minutes payment link is invalid?
 You can increase the pending payment delay by changing hold stock value in woocommerce settings-> inventory.
see attached image.

Screenshots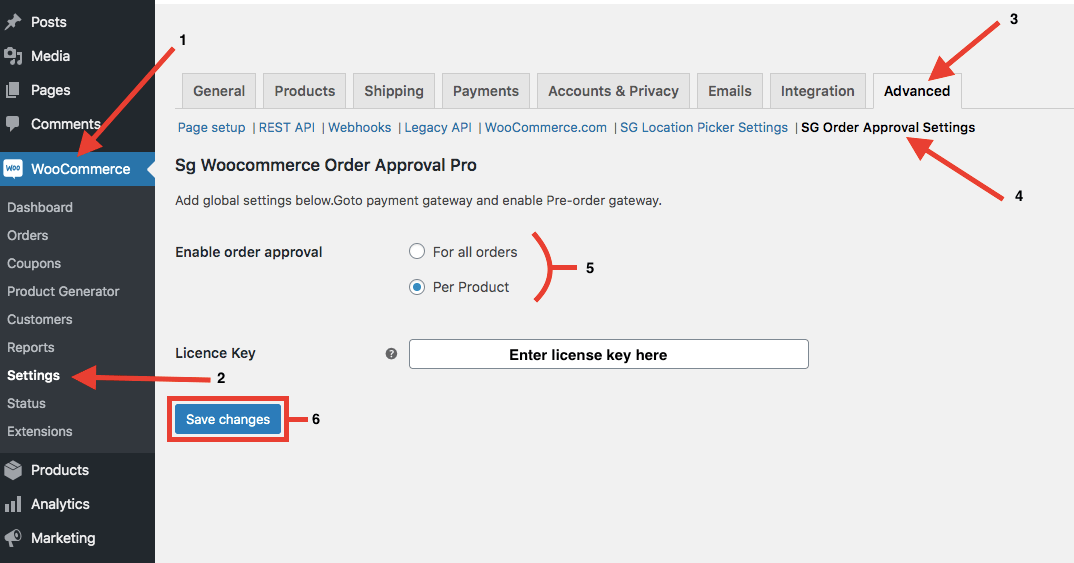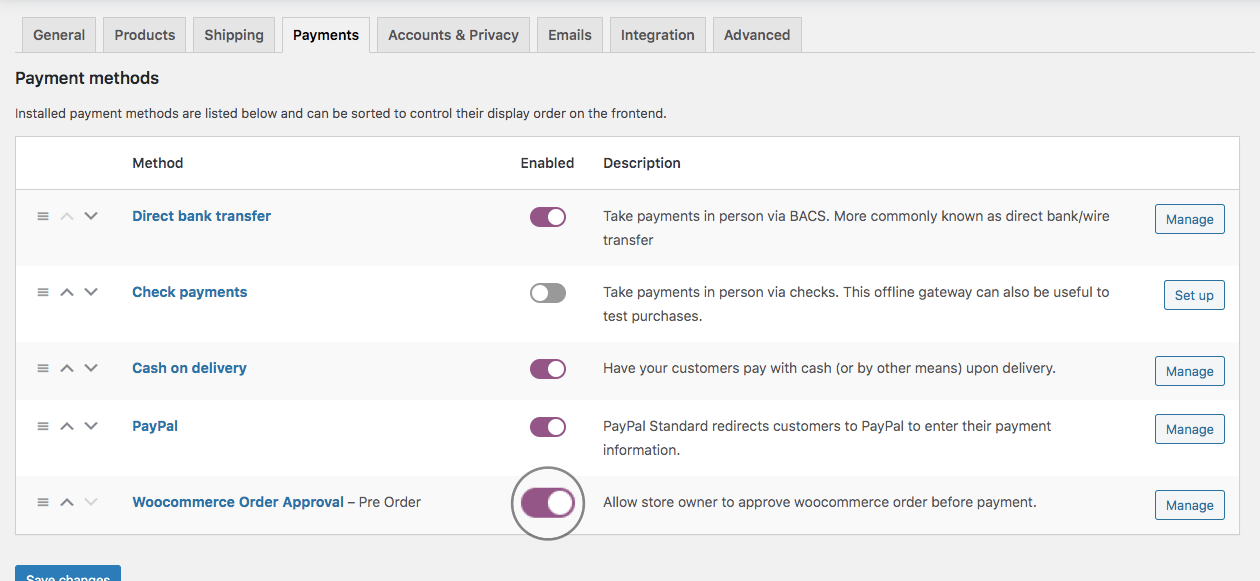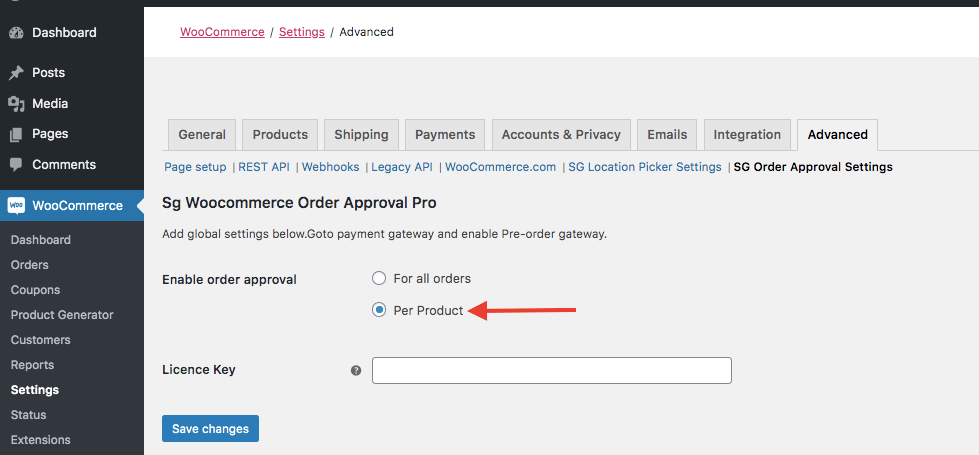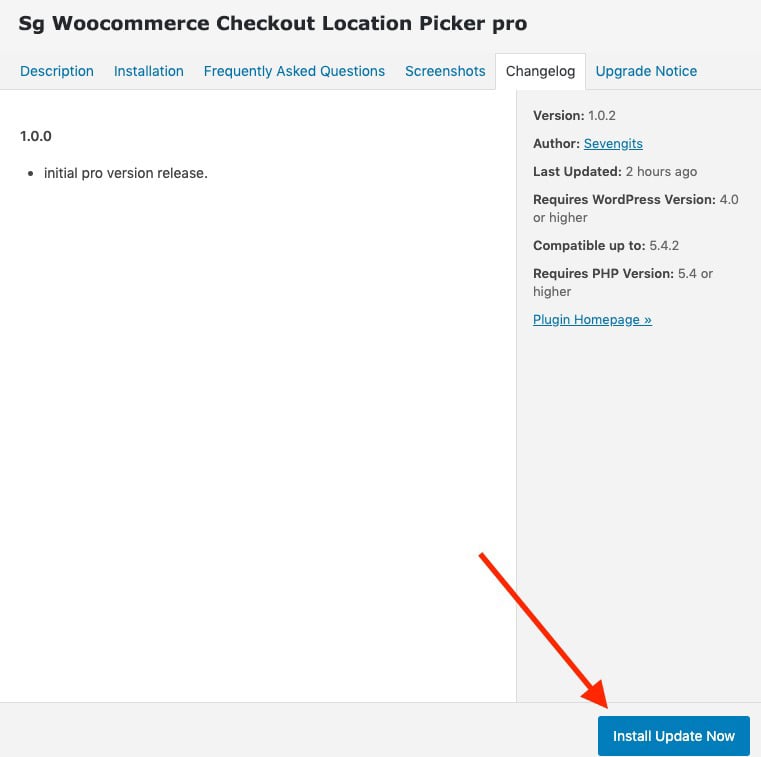 Was this documentation helpful?
---