Dokan v/s WCFM: A Comprehensive Comparison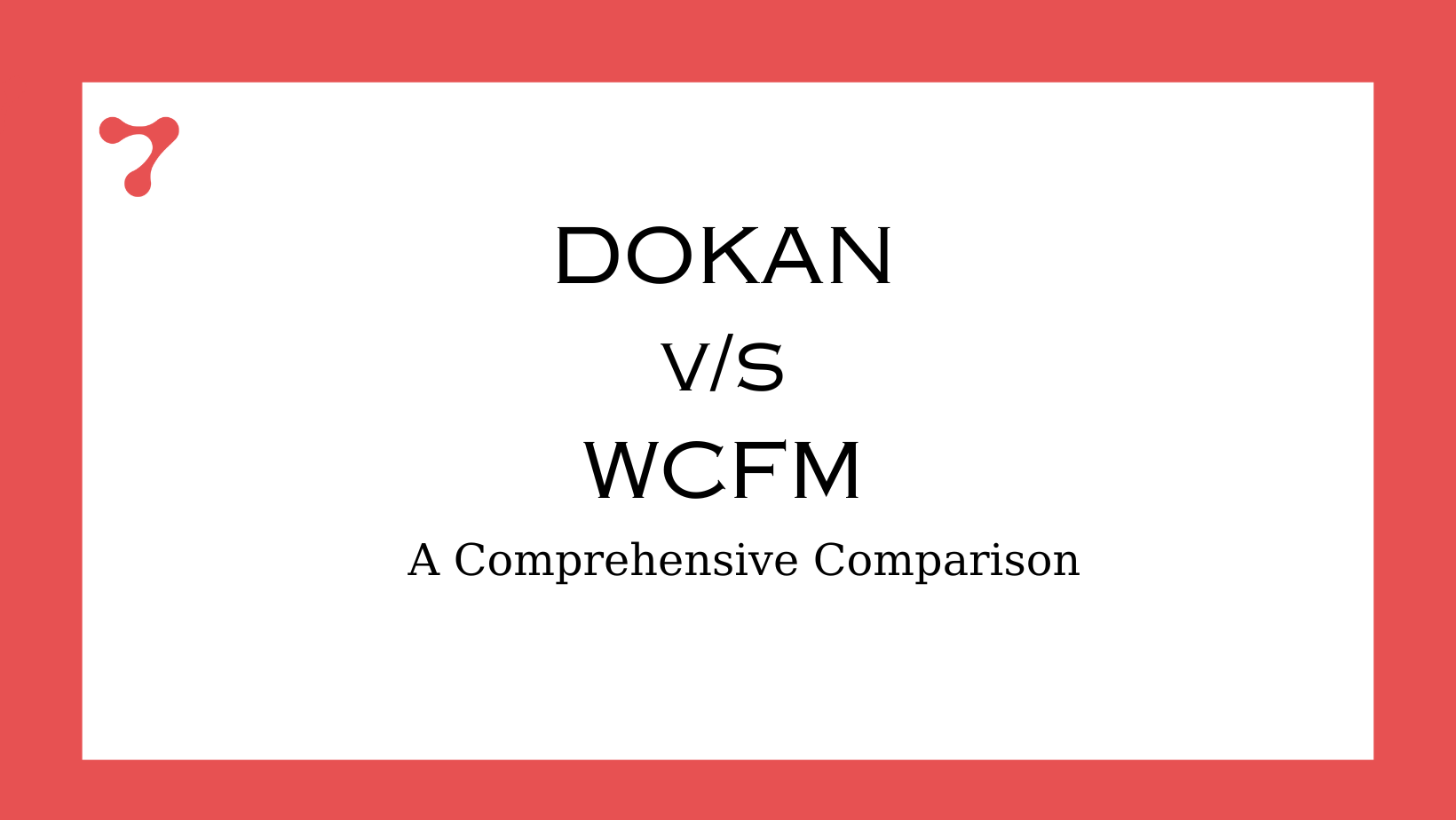 Dokan v/s WCFM
Beginning the journey to create your eCommerce marketplace with WordPress is an exciting decision, and if you're familiar with eCommerce, you've likely heard of WooCommerce. However, when it comes to the multi-vendor marketplace genre, where no de facto standard exists like WooCommerce, the decision-making process becomes more intricate. Two prominent names in this space are Dokan and WCFM Marketplace, both boasting extensive features and user-friendly interfaces.
In recent years, the surge in popularity of multi-vendor markets, exemplified by giants like AliExpress, eBay, Amazon, and Etsy, has brought these plugins into the spotlight. The core concept is simple: site owners earn revenue through various fees each time a seller makes a sale.
This comprehensive comparison aims to provide you with the insights needed to make an informed decision between Dokan and WCFM(Dokan v/s WCFM) Marketplace. Both plugins are highly regarded and offer a similar range of features, making it essential to delve deeper into their nuances.
Now, let's explore the key aspects that differentiate DDokan v/s WCFM Marketplace, helping you decide which plugin aligns better with your specific requirements and delivers more value for your investment.
let's begin with Dokan v/s WCFM
Dokan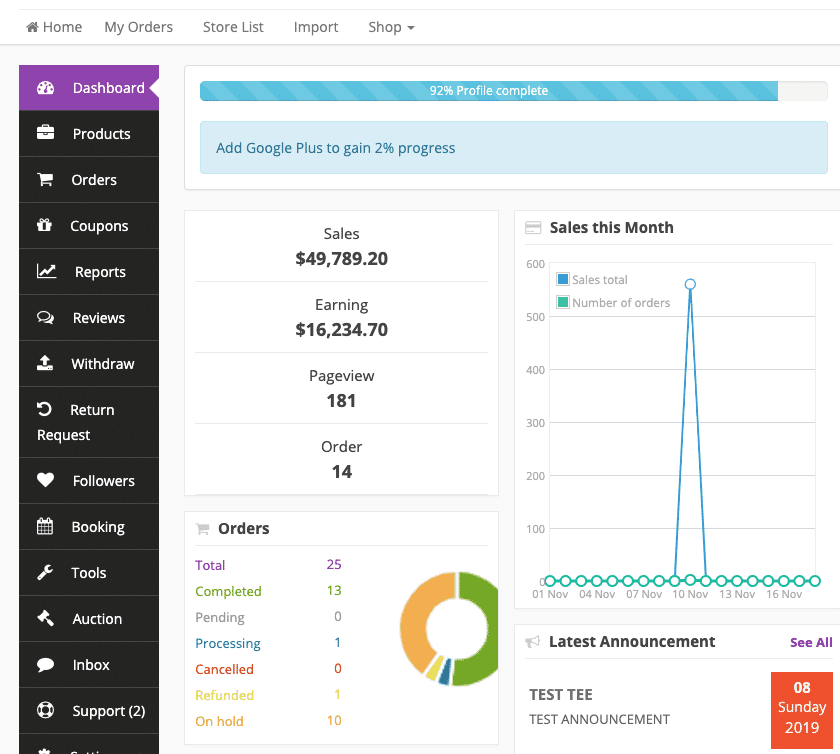 Dokan is a powerful multi-vendor e-commerce solution for WordPress, designed to transform a standard website into a dynamic online marketplace. With Dokan, businesses can effortlessly create an environment where multiple independent vendors can set up their own stores, manage products, and process orders. Vendors benefit from a user-friendly dashboard for product and order management, while customers enjoy a seamless shopping experience. The plugin supports various payment gateways, provides a customizable storefront for vendors, and allows site owners to set commission rates. Dokan is an excellent choice for those seeking to establish a scalable and feature-rich online marketplace without the need for extensive custom development.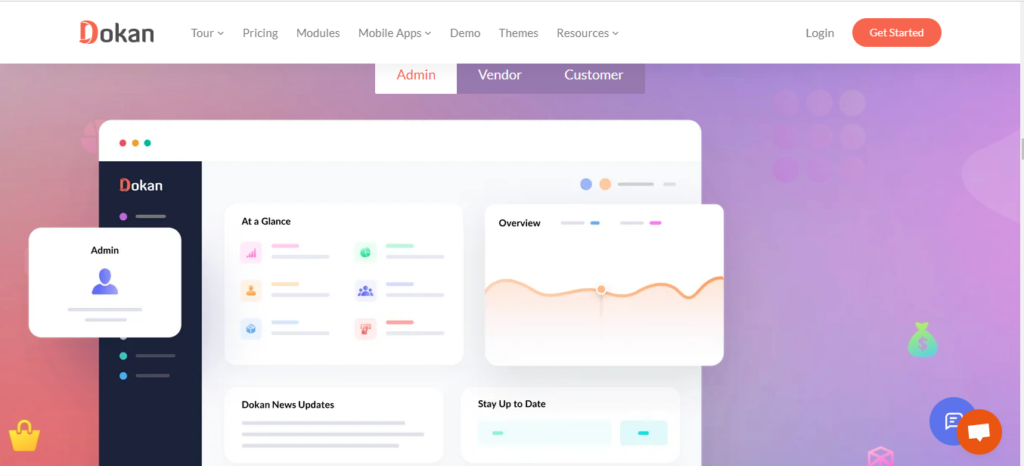 Main Features of Dokan
User-Friendly Interface: Dokan is known for its intuitive and user-friendly interface, making it accessible for both administrators and vendors.
Frontend Dashboard: Vendors can manage their products, orders, and other aspects of their stores from a frontend dashboard without needing access to the WordPress backend.
Commission System: Dokan includes a flexible commission system, allowing site owners to set global and per-vendor commission rates.
Payment Gateways: It supports various payment gateways, providing flexibility for both site owners and vendors to transact.
ePacket Shipping Integration: Dokan has ePacket shipping integration, which can be useful for marketplaces dealing with international shipping.
Vendor Verification: It offers features for vendor verification, helping to ensure the authenticity and reliability of vendors on the platform.
Product Management: Vendors can add and manage their products easily, including setting product attributes and variations.
Multi-Language Support: Dokan supports multiple languages, facilitating the creation of marketplaces for diverse audiences.
WCFM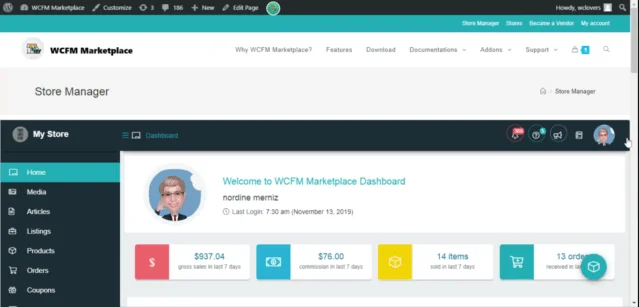 WCFM (WordPress Frontend Manager) is a comprehensive e-commerce solution designed to transform WordPress websites into powerful multi-vendor marketplaces. With WCFM, site owners can create an environment where multiple vendors can independently manage their stores, products, and orders. The plugin offers an intuitive frontend interface, empowering vendors to easily add and edit products without accessing the WordPress backend. WCFM provides robust features, including vendor dashboards, flexible commission structures, and support for various payment gateways. Additionally, it integrates seamlessly with popular WooCommerce plugins, enhancing the overall functionality of the marketplace. WCFM is an ideal choice for those seeking a user-friendly and feature-rich platform to establish and manage multi-vendor e-commerce ventures on WordPress.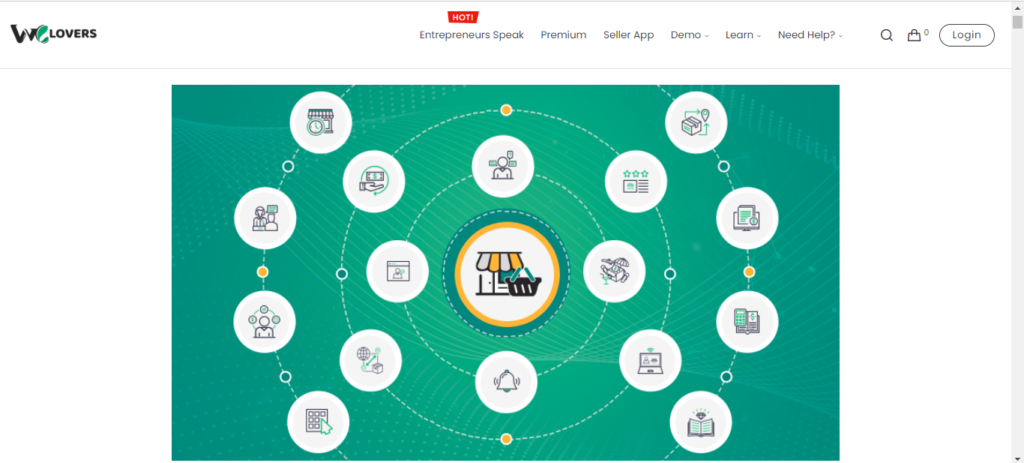 Main Features of WCFM
Modular Design: WCFM is modular, allowing you to add specific features through extensions based on your requirements.
Frontend Manager: Vendors get a feature-rich frontend manager to control their products, orders, and store settings.
Membership System: WCFM Marketplace offers a membership system, enabling site owners to create subscription-based models for vendors.
Advanced Analytics: It provides advanced analytics and reporting tools, giving insights into the performance of vendors and the marketplace.
Bookings and Appointments: WCFM supports bookings and appointments, making it suitable for marketplaces that involve time-sensitive services.
Vendor Store SEO: Vendors can optimize their store's SEO directly from the frontend, enhancing their visibility in search engines.
Vendor Verification: Similar to Dokan, WCFM also supports vendor verification for added trustworthiness.
Mobile App Integration: WCFM has options for mobile app integration, allowing users to access and manage their stores on mobile devices.
Difference between DOKAN and WCFM
Dokan v/s WCFM
DOKAN
WCFM
Compatibility and Ease of Use
Compatible with any theme supporting WooCommerce, offering flexibility in design. Its user-friendly interface ensures easy navigation for both administrators and vendors.
Designed to work well with any well-coded WooCommerce theme. The user interface is intuitive, making it accessible for vendors of varying technical expertise.
Key Features
Provides a comprehensive set of features, including catalog management, order processing, payment handling, and SEO tools. Additional modules such as live chat and geolocation are available for extended functionality.
Boasts features like data import/export, invoicing, coupon management, and a live chat feature for enhanced communication. The plugin focuses on providing a robust set of tools for managing vendors and transactions.
Commission Management
Offers flexibility in commission management with global or per-vendor settings. Vendors can have special commissions assigned to specific products.
Stands out with flexible commission rules based on vendor sales, product price, and purchase quantity.
Reporting and Analytics
Equips users with reporting tools for a comprehensive overview of store performance.
Provides a ledger book for transaction monitoring and analytics tools for tracking sales performance.
Vendor Management
Front-end dashboard for vendors to manage various aspects like sales, discounts, and orders. It emphasizes additional modules for extended functionality.
Vendors can efficiently manage store hours, configure shipping options, and handle product catalogs. The inclusion of an enquiry manager facilitates effective handling of customer queries.
Communication Tools
Offers features like announcements on the dashboard and product reviews to enhance communication.
Stands out with a live chat feature for direct communication between vendors and customers.
Feedback
Dokan has truly exceeded expectations! The support team is the best—prompt, knowledgeable, and always ready to assist. This multivendor plugin stands out with its ease of customization on the front end, particularly the vendor dashboard, allowing you to tailor your marketplace exactly as envisioned. The solid customer support experience and Dokan deserve a 5-star rating. Dokan is, without a doubt, the best multivendor plugin, and highly recommend it for anyone seeking a seamless and customizable e-commerce solution.
Users have consistently praised WCFM for its outstanding marketplace plugin. Support from the team, particularly in issue resolution and immediate assistance, has garnered appreciation, contributing to overall user satisfaction.WCFM is a top-tier choice for creating and managing online marketplaces, with users expressing happiness, gratitude, and a strong inclination to stick with the platform as they build and grow their ventures.
Pricing details
Dokan offers a freemium model, with a free basic version available.
Starter: $745
Professional: $1245
Business : $2495
Enterprise: $4995

WCFM offers a freemium model, with a free basic version available.
WCFM Ultimate: $59 – $299
WCFM Group&Staff: $49 – $249
WCFM Delivery: $39 – $149
WCFM Affiliate: $39 – $149

Visit
https://dokan.co/wordpress/
https://wclovers.com/
Dokan v/s WCFM
Comparison Dokan v/s WCFM
| | | | |
| --- | --- | --- | --- |
| FEATURES | DOKAN |   | WCFM |
| Free Version Available | YES |   | YES |
| Built-in coupon management | YES |   | NO |
| Automatic and duplicate page creator | YES |   | NO |
| Manage Products | YES |   | YES |
| Shipping Tracking Integrated | YES |   | YES |
| Vendor Store Widgets | YES |   | YES |
| Product Image and Gallery | YES |   | YES |
| Built-in coupon management | YES |   | NO |
| Admin Dashboard | YES |   | NO |
| Withdrawal Limit | YES |   | NO |
| Built-in refund management | NO |   | YES |
| Commission set up by vendor sales | NO |   | YES |
| WPML Support | NO |   | YES |
| Mobile App | YES |   | YES |
| Auction Products | YES |   | YES |
| Bookable Products | YES |   | YES |
| Add Variable Products | YES |   | YES |
| Downloadable Products | YES |   | YES |
| Grouped Products | YES |   | YES |
| Run Limited Time Discount | YES |   | YES |
| Tax Options | YES |   | NO |
| Vendors can add multiple categories | YES |   | NO |
| Default notification on product submission | YES |   | NO |
| Trusted Vendor | YES |   | YES |
| Shipping Tracking Integrated | YES |   | YES |
| Frontend Dashboard for Vendors | YES |   | YES |
| Vendor Verification | YES |   | YES |
| Frontend Product Management | YES |   | YES |
| Backordering System | YES |   | YES |
| Stock Management | YES |   | YES |
| Store Ratings | YES |   | YES |
| Store Contact Form | YES |   | YES |
| Subscription Products | YES |   | YES |
| SEO Options | YES |   | YES |
| Product Image and Gallery | YES |   | YES |
| Seller Reports | YES |   | YES |
| Coupon Creation | YES |   | YES |
| Admin Announcements for Vendors | YES |   | YES |
| Custom Store URL | YES |   | YES |
| Social Media Profiles | YES |   | YES |
| Store Logo and Header | YES |   | YES |
| Individual Vendor Stores | YES |   | YES |
| Order Email Notifications | YES |   | YES |
| Storefront Widgets | YES |   | YES |
| Support tickets & email | YES |   | NO |
| Fixed Commission for Vendors | YES |   | YES |
| Multiple Commission Types | YES |   | YES |
| Product Level Shipping | YES |   | YES |
| RMA Functionality | YES |   | YES |
| Wholesale Section | YES |   | YES |
Conclusion
In conclusion, both Dokan and WCFM Marketplace are powerful plugins with their strengths. Dokan excels in additional modules and SEO tools, while WCFM Marketplace focuses on features like flexible commissions, a comprehensive ledger book, and efficient communication tools. Your choice should depend on your specific requirements and preferences, as both plugins offer robust functionality for creating and managing online marketplaces.
We are introducing two essential plugins for streamlined order management in e-commerce platforms. The Dokan Order Approval plugin empowers Dokan marketplace vendors to approve or reject customer orders before payment, enhancing control and customization. Explore more at Dokan Order Approval. For WCFM marketplace vendors, the Order Approval for WCFM plugin provides similar functionality, allowing vendors to approve or reject orders before payment. Elevate your vendor experience with Order Approval for WCFM. Simplify and customize your order approval process with these efficient solutions.know more visit Sevengits website.
Was this documentation helpful?